BBC Radio 1's Dominic Byrne at University of Sunderland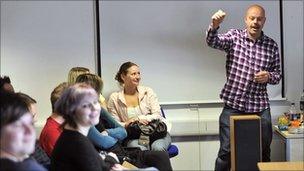 University of Sunderland students have been treated to a masterclass from a BBC Radio 1 newsreader.
Dominic Byrne, who reads the news on the Chris Moyles Show, visited Wearside to give tips to broadcast journalism students.
He talked about experiences from throughout his career and answered the students' questions.
Mr Byrne has had more than 10 years experience reading news on the national station.
Fred Marden, the university's head of radio, said: "We invited Dominic Byrne to the university as we wanted first-class high quality voice training advice for our broadcast journalism students.
"We wanted to offer our students the opportunity to meet with, and learn from, someone who is at the front and centre of one of Britain's biggest breakfast shows.
"[Dominic] holds the philosophy that the news should be read in the presenter's natural voice, which was part of the voice training he offered to the students, which they thoroughly enjoyed."
The students had the chance to grill the newsreader about how to get into the industry.
Jon Bond, who is studying a masters degree in radio production and management, said: "He was excellent, really engaging and answered all the questions that the students had asked him honestly and openly.
"I think he really inspired all the students who met him."