North East charities receive £410,000 in funding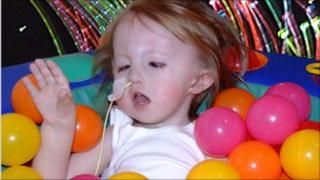 A County Durham group, set up in memory of a young girl born with a rare genetic condition, is one of 51 North East groups to benefit from more than £410,000 of Big Lottery Fund grants.
Tabitha's Toys has received nearly £6,000 to help extend their service to children in the north-east of England with complex special needs.
Sunderland-based Pennywell Youth Project, Tyneside Film Theatre Limited and Northumberland's BiBs (Breast is Best Supporters) have also benefited from funding.
James Turner from the Big Lottery Fund, said: "Small amounts of money can make a huge difference to communities and the lives of those most in need so it's wonderful to see so many grants being channelled into the region today."
Helping others
Tabitha's Toys was established last year in memory of Tabitha Lees-Moore, who was born with Edwards Syndrome, a condition which severely restricts mobility and communication.
Her mother Jacqueline said she witnessed first-hand the joy and stimulation a simple set of fibre optic lights gave Tabitha and set up the group Tabitha's Toys to help other children with complex special needs.
They currently help more than 20 children in the region by loaning sensory equipment such as lights, touch screen computers and mirror balls to families.
With the £5,944 of funding they hope to extend their service even further.
George Jefferson, treasurer of Tabitha's Toys, said: "This funding will go such a long way in helping us to continue our work providing much-needed sensory toys and equipment for children in the North East who have a range of complex special needs. We are ever-so grateful for the support."
Pennywell Youth Project in Sunderland received £9,000 for a programme of arts and music activities for children with autism and Aspergers syndrome and BiBs (Breast is Best Supporters) in Northumberland received £10,000 to hold a regional breastfeeding conference.