Archaeological dig set to unearth Northumberland's past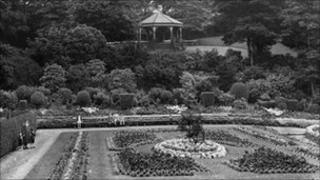 The medieval secrets of Northumberland Park could be revealed in the next few weeks during an archaeological dig.
Up to seven trenches will be dug within the park, which lies between Tynemouth and North Shields.
The dig is part of work to rediscover the medieval hospital of St Leonard's as part of North Tyneside Council's restoration plans.
The council is applying for £2.2m from the Heritage Lottery Fund (HLF) to improve the park.
Northumberland Park opened in 1885 and comprised woodland areas, formal flowerbeds, a pond, two bowling greens and a play site, but many of its historic features have been lost.
Local interest
Thirty volunteers - trained by professional archaeological surveyor, Alan Biggins - surveyed the area last month.
They are supported by the New Friends of Northumberland Park and North Tyneside Council.
Michael Coates from the New Friends of Northumberland Park, said: "The project is at a very exciting stage.
"Nothing like this has happened before so there's a lot of interest locally. Personally, for over 50 years I've wondered what's buried there."
Between five and seven small trenches will be dug by hand, depending on the complexity of archaeology found.
They will go around the known hospital remains and on buildings known from early 19th Century maps near the Spittal Bridge.
There will be a further trench on the site of the former Park Cottage, built in the 1880s and demolished in 1960. It is hoped that a medieval herb garden will also be found at this location.
The archaeological dig will take place in three stages from 22 June to 10 July.