Tynemouth RNLI lifeboat rescues Oscar from sea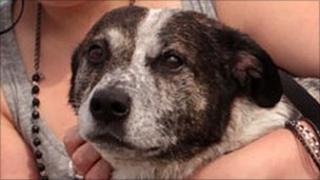 A dog had to be rescued by lifeboat after it continued to chase a ball hundreds of yards from the shore.
The animal's owners became concerned when their pet paddled more than 300yd (more than 100m) into the mouth of the River Tyne, near North Shields.
The Tynemouth RNLI volunteer lifeboat was called and located "Oscar" still pushing the ball away from the shore.
Crews took the dog on board and returned to land where it was reunited with its owners.
Adrian Don, from Tynemouth RNLI, said: "Oscar chased a ball into the sea from the beach near to the Low Lights car park, North Shields, and his owners thought that he'd just fetch it back as usual.
"But he just kept on nudging it with his nose, further and further out.
"It's likely that he would eventually have become too tired to make it back to shore.
"Thankfully our volunteers were able to reunite him with his owners although he seemed to be wondering what all the fuss was about."