Impaled Sunderland girl Caitlyn Brown out of hospital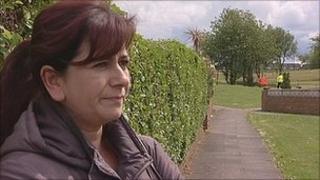 A 10-year-old Sunderland girl who was impaled on metal railings has been allowed to return home from hospital, her mother said.
Caitlyn Brown fell from a tree and landed on the railings near her home in Gainsborough Square on Saturday. One spike pierced her stomach and shoulder.
The youngster was discharged from hospital on Tuesday evening.
Jan Brown said her daughter was now planning to write a thank you letter to those involved in her rescue.
It took firefighters and paramedics two hours to cut Caitlyn free. She was ferried to Newcastle's Royal Victoria Infirmary with part of one railing still in her body.
Mrs Brown said: "She is getting better but still has little flashbacks of what happened. I think she is just realising how close things were.
"She has said she wants to write a letter to the firemen who helped her.
"She's had a visit from her friend across the road and a nice message from the head teacher at her school.
"We're all still coming to terms with it all, but we are so grateful to everyone who has sent us cards and best wishes.
"She just needs to rest now and keep getting better."
Emergency crews praised the youngster's bravery throughout the ordeal.
Sunderland Council has removed the railings after concerns were raised by neighbours about another possible incident.