Car drives into bungalow bedroom in Sunderland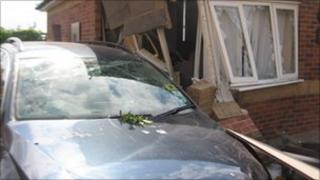 A car was driven through two gardens before ploughing into the bedroom wall of a retired couple's bungalow.
Neighbours ran to help but the residents from Langeeford Park were out of the house at the time of the crash at about 2300 BST on Tuesday.
The VW Passat left Dame Dorothy Street in Roker and drove though two garden fences before hiting the bungalow.
No-one was injured during the incident and a 34-year-old man has been arrested on suspicion of dangerous driving.
Jim Breen, one of the concerned neighbours, said: "I heard a big bang and looked out the window, I think he'd have been finished if he'd been in bed."