Tributes to retired Catholic Bishop Ambrose Griffiths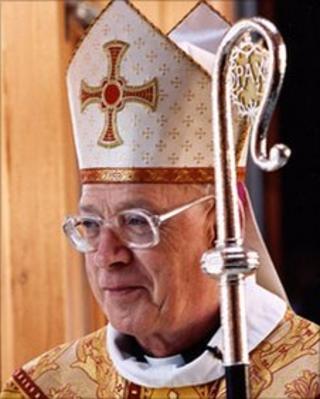 Tributes have been paid to the former Catholic Bishop of Hexham and Newcastle who has died of leukaemia.
Ambrose Griffiths, 82, died peacefully in Liverpool on Tuesday. He was the 11th Bishop of Hexham and Newcastle from 1992, until he retired in 2004.
One of his priorities was getting young people involved in the church and he set up the youth ministry team.
Current Bishop Seamus Cunningham said Bishop Ambrose had lived life "full of gratitude and hope".
He said: "I visited him just a few weeks ago and he knew then that he had only a short time left and was dying as he had lived - full of gratitude and hope.
"His infectious enthusiasm meant that his ministry as bishop of our diocese was a time of great blessing for us.
"He had a special gift for getting alongside young people and inspiring them to pass on their faith."
Patrick Kelly, Archbishop of Liverpool, said: "Bishop Ambrose blessed the diocese of Liverpool in the parish of St Mary's, Leyland, and blessed us again by dying in serenity and peace in our midst."