St Nicholas Cathedral's priceless figures restored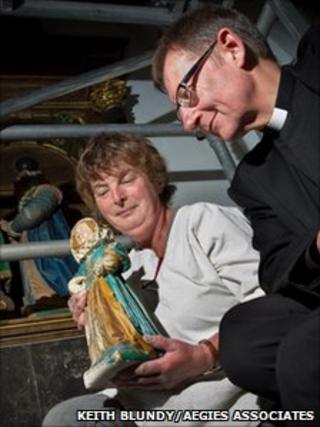 A 400-year-old monument which was accidentally damaged last year at St Nicholas' Cathedral in Newcastle has finally been restored.
A volunteer working at the cathedral accidentally dislodged part of the artwork in the St George's Chapel, smashing six priceless figures.
The Hall monument has now been restored and cleaned showing its colours for the first time in centuries.
The wall-mounted monument depicts William and Jane Hall and their six children and was commissioned by William's son Alexander Hall.
William Hall was Sheriff of Newcastle in 1608 and Mayor in 1624.
The monument is one of only three remaining from the period in the cathedral and dates back to the 1630s.
Cathedral administrator Julian Haynes said: "The accident happened in April last year when one of the volunteer cleaners accidentally knocked the children off and they smashed.
"We were literally left with numerous fragments and a lot of dust on the floor. It was a real trauma.
"Because they are irreplaceable we called in experts to see if they could be put back together and we are delighted that they are back in their rightful place.
"We also asked them to clean up the monument. The result has been like removing the dirt of ages."
The restoration work was carried out by Deborah Carthy from Carthy Conservation.
She said: "We managed to save the fragments and have put the figures back together pretty much as they were.
"There were no pictures of them with sufficient detail but the cathedral had a copy of Welfords, a book which has excellent detail, and we were able to work from that."