Ninety years of weddings in Benwell remembered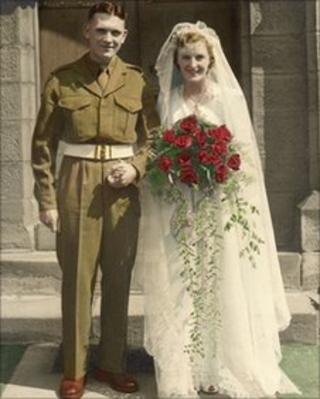 Photographs of weddings in the west end of Newcastle over nine decades have been assembled for a new exhibition.
Anyone who had married in Benwell was asked to dig out their old wedding photographs for a record of a changing community.
Community researcher and development worker Judith Green, who is coordinating the project, said: "Even decades ago, when hardly anyone had a camera, they usually had a photo taken on their wedding day.
"Everyone loves looking at old pictures and we thought it would provide a unique record of how society has changed, but also reflect the pride and interest people have for this area of our city."
Dozens of pictures were sent in from all over the world by current and former residents and their families, from as far away as New Zealand.
Showing the changing dress and hair styles over the decades, the earliest date from the 1920s and the most recent from 2009.
Judith said: "We were amazed by the response. We have hundreds of photographs of around 170 weddings to put in the exhibition showing thousands of people.
"It seemed so important to us to provide a permanent record of the church's role in the community, in an area which has changed so much in the last century.
"So many people who sent in pictures no longer live in the west end because their homes, the long rows of old terraced houses, have been demolished.
"It seems, despite all the changes, even those who've left, still have huge affection for Benwell."
Two tables of food
Most of the photographs were of weddings at St James' Church but some featured couples at Bond Memorial Methodist Church in Adelaide Terraces and a couple at the now demolished St Aidan's on St John's Road.
Among the photographs is one of Jane Spark with her husband George who married in 1983.
Mrs Spark says by today's standards it was a fairly simple wedding: "We didn't have a lot of money so I bought my outfit, a pale grey suit, from a catalogue with grey shoes and a blue clutch bag.
"It rained but we had a brilliant day. We had a taxi to take us there, my nieces were bridesmaids and afterwards we had a reception in our flat.
"We did all the catering ourselves but we filled two tables with food."
The exhibition will be open to the public most Tuesdays throughout the summer from 11am to 3.30pm and then over the weekend of 10 and 11 September, when the church is open for the Heritage Open Days.
All the photos will then be placed in a permanent collection in the West End Library as part of the West Newcastle Picture History Collection, a volunteer-run collection of old photographs, maps and material about the west end of Newcastle.