Enid Blyton legacy to Newcastle's Seven Stories centre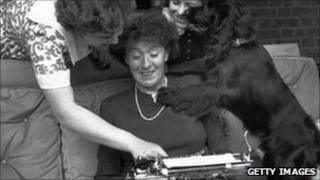 A Newcastle-based national children's book centre is to receive £750,000 thanks to the late writer Enid Blyton.
A trust set up in the Famous Five author's name is to be wound up and its assets donated to the Seven Stories centre.
Last year the centre set up an Enid Blyton archive after buying original typescripts of some of her best-known work including the Secret Seven series.
Kate Edwards, chief executive of Seven Stories, said she was "thrilled".
'Truly inspiring'
She said: "This new fund deepens our connection with Enid Blyton and her outstanding contribution to children's literature.
"The money will support our work to inspire more children from different walks of life to enjoy reading and the life opportunities that this brings."
Blyton, who wrote more than 700 books and died in 1968, was the best-selling English-language author of the 20th Century.
A spokesman for the Enid Blyton Trust for Children trustee said: "Seven Stories is a truly inspiring place.
"We know that we have made the right decision and believe that Enid herself would feel very happy with everything Seven Stories is doing for her, her work and for the children."