Street pastors aid Whitley Bay revellers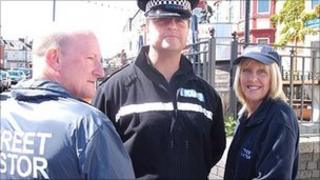 Street pastors are set to offer a helping hand to revellers in a North Tyneside seaside town.
The volunteers will patrol Whitley Bay on Saturday nights, after Northumbria Police secured funding for the scheme.
They carry blankets, water and a first aid kit, so are able to offer practical help, and can also lend a sympathetic ear to those feeling a bit emotional.
Operating in threes, they have the use of a radio system in case police assistance is needed.
The pastors, made up of volunteers from the Whitley Bay and District Churches Together, are about to undergo training, and the scheme is expected to become operational soon.
'Positive impact'
North Tyneside Elected Mayor Linda Arkley, said: "Street pastors can help those people who are vulnerable, freeing up the police to deal with any anti-social behaviour.
"Ultimately, I want Whitley Bay to be known as a family-friendly seaside town."
Alan Dickinson, of Whitley Bay Christian Fellowship, said: "Street pastor projects are very successful across the country and have had a positive impact on the community they serve.
"We're looking forward to bringing this service to Whitley Bay."