Rothbury asks Moat anniversary mourners to 'stay away'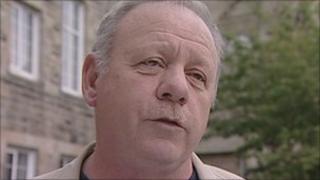 Residents of the village where killer gunman Raoul Moat died have urged mourners to stay away on the first anniversary of his shooting rampage.
Last month a group of the 37-year-old's friends laid floral tributes in Rothbury to mark his birthday.
The flowers were removed and parish councillor Peter Dawson urged mourners not to "honour a murderer" on Sunday.
This is the anniversary of when he shot his ex-girlfriend Samantha Stobbart and killed her boyfriend Chris Brown.
He then shot Pc David Rathband, 42, in the face, blinding him, before going on the run for a week and finally shooting himself during a six-hour stand off with police in the village on 10 July.
Rothbury parish Councillor Peter Dawson said: "We would ask people if they want to lay floral tributes to do it elsewhere.
"Why does anyone want to remember a murderer? Personally I think that is wrong.
"If anyone has to be remembered in this sequence of tragic events - let's remember the victims."
Mr Dawson said villagers just wanted to move on and did not want visitors gathering on the banks of the River Coquet, where Moat died.
He added: "To be honest the villagers are sick of it all
"They really are, they can't see there is any need for it whatsoever.
"The world knows we had an incident here last year that we just want to forget.
"We want to put it behind us - it is part of the history of the place, we can't change it, but we can move on."