Neighbour rescues woman in gas blast at Sunderland home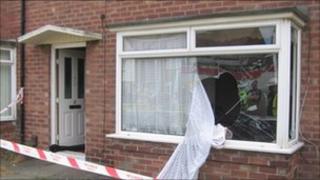 A man has been praised for rescuing a pensioner seriously injured in a suspected gas explosion at her home on Wearside.
Fire crews were called to Craigshaw Square, at Hylton Castle, Sunderland, just after 0900 BST, after reports of a gas blast.
The 86-year-old woman was carried to safety by her neighbour David Thompson and was then taken to hospital.
Northumbria police are investigating the exact cause of the fire.
Mr Thompson broke a window to gain access into the house where he then picked her up and carried her to his home nextdoor.
He put water on her burns until firefighters and paramedics arrived.
Steve Anderson, from Tyne and Wear Fire and Rescue Service, said: "Mr Thompson's prompt and selfless actions saved her from even worse injuries under extremely difficult circumstances."