Thousands turn out for the 127th Durham Miners' Gala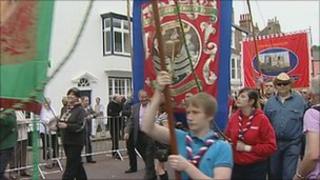 Thousands have turned out in County Durham to mark the 127th Miners' Gala.
Special guests at the event include two of the 33 rescued Chilean miners, Carlos Barrios Contrera and Carlos Bugueno Alfara.
They and their workmates were trapped 700m (2,300ft) underground at the Copiapo mine for two months in 2010.
The gala, which includes a parade through Durham city centre, is held each year to celebrate the region's mining heritage.
The Chilean guests are expected to address the crowd at the old Racecourse.
Dave Hopper, general secretary of the Durham Miners' Association, said: "These men came through an incredible episode in their lives very successfully.
"The spirit and the comradeship of the miners underground was typical of miners throughout the world."
The first event took place in Durham in 1871, but some years the gala was cancelled due to strikes, World War I and World War II.