Wasp proliferation reported by Durham pest controller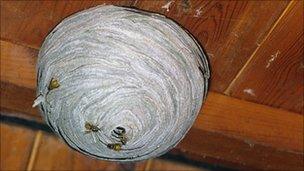 A County Durham pest controller is reporting a three-fold rise in the number of call-outs to wasps' nests, flies and ants.
Henry Walton, from Pes-Tech in County Durham, said he had seen a "phenomenal increase" since the end of June.
The number of wasps normally increases in the summer but Mr Walton said the combination of sudden downpours and bursts of heat had created a humid climate ideal for insects to breed in much greater numbers.
He said: "It's been gradually increasing [over the years] but then, certainly this year, it's just blown out of all proportions."
The increase in call-outs has meant Mr Walton's company has had to take on another member of staff.
He said his jobs were getting "out of control" with wasps making nests so fast that people "can't keep on top of them".
He said: "We were called out to a job on a farm and went there to treat one wasps' nest, just expecting to be there for 15 to 20 minutes.
"A chap from around the corner comes round, says 'there's another one here'. One job had turned into four jobs within the space of five minutes."
'Really, really aggressive'
Although Mr Walton wears protective clothing he has still been stung and, startled by a sudden swarm, fallen off his ladder.
He has noticed the wasps' temperament has become more hostile.
"At the moment they're really, really aggressive. Normally you can get in there and treat them without them swarming too much but, as soon as I was getting anywhere near the vicinity, they were just coming at me.
"Really, really swarming, just hitting the suit, banging at it, really trying to sting me."
"As soon as I make a sharp movement with my duster or my implement that puts a poison into the nest, they're attacking it, or attacking me, and I've never had that before.
"Bear in that last year maybe two nests out of 130 will have attacked me and I've had six attack me in the last 10."
Some of the nests Mr Walton has been called to have been very big. One, in a stable, was the "size of a football and half again - it was massive".
However, he has yet to match a wasps' nest he found last year in the eaves of an old house which was so big - 1m wide and 30cm deep - he could not get it out in one piece.
Related Internet Links
The BBC is not responsible for the content of external sites.