Newcastle midfielder Joey Barton 'holidayed in US'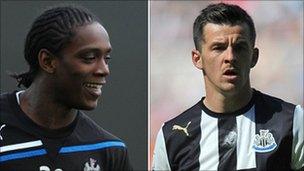 Newcastle midfielder Joey Barton, who was refused a visa for the team's America tour, was on holiday in the US last month, it has emerged.
The 28-year-old has been barred because he has a conviction for assault.
But a photograph posted on Twitter by a team mate shows Barton, who said he "regretted" the ban, on holiday in Los Angeles in June.
Newcastle United also confirmed striker Nile Ranger, who has a conviction for robbery, has been refused a visa.
Newcastle United declined to comment on Barton's trip, saying the holiday was not a "club issue".
In 2008, the same year Barton was convicted for the assault in Liverpool, he was also given a suspended sentence for an assault on a team-mate at Manchester City.
Barton, 28, said he regretted not being able to go, but did not expect to be treated more favourably than anyone in a similar situation.
Newcastle are due to depart for the US on Sunday, with matches scheduled against Sporting Kansas, Orlando City and Columbus Crew.
Barton will travel to the Netherlands with the club's reserve team, which will play Hollandia, FC Utrecht and Almere City.
The midfielder said: "Unfortunately, I was denied my visa due to my past.
"I regret not being able to travel with the club on this trip, but at the same time, I don't expect to be treated any differently or more favourably than anyone else in a similar situation.
"All I can do is continue to improve as a person, which is what I intend to do."
He added: "Again, apologies to all the NUFC supporters, as well as the fast-growing legions of football supporters in the United States who I was looking forward to meeting.
"I will see you in the future."
He later commented on his Twitter page: "Visa story is correct, they told me am not allowed in until I have 5yrs without any trouble. 3yrs down, 2yrs to go."
Another post read: "Total hypocrisy considering what they get up to, but rules are rules."
The US Embassy said it did not comment on individual cases but confirmed anyone with a criminal conviction had to declare it and needed a visa to travel.
Related Internet Links
The BBC is not responsible for the content of external sites.