Washington pensioner couple scoop £2.4m lotto jackpot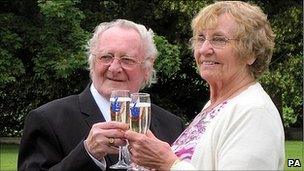 A Wearside pensioner who has had two new hips danced "like Michael Flatley" when her husband told her they had won more than £2m on the lottery.
Fred and Doreen Smith, both 71, from Washington, near Sunderland, scooped a £2.4m share of Saturday's jackpot.
Mr Smith, who is retired, said: "She's had two hip replacements but as soon as she saw I was telling the truth, she was dancing like Michael Flatley."
The couple said their first purchase would be a new bungalow.
The pair have four children, 11 grandchildren and five great-grandchildren.
Mr Smith found out they had won after coming home from their grandson's wedding on Saturday night.
His wife was already in bed, and thought he was joking when he told her they had won.
They now plan to buy a bungalow as Mrs Smith, who worked for the NHS with people who have learning difficulties, struggles with stairs.
The couple, who have been married 51 years, phoned their two sons and two daughters after the win.
Mr Smith said: "This win means my family can be set up for life - we've always had to watch the pennies but now we know our children and grandchildren are going to be fine."
The winning numbers for Saturday's draw were 1, 2, 21, 24, 33 and 49.
Related Internet Links
The BBC is not responsible for the content of external sites.