England rugby star Katy McLean Sunderland's top student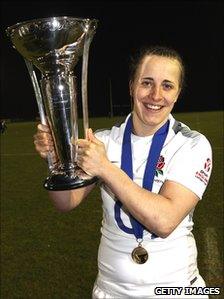 Captain of the women's England rugby team Katy McLean has been named the University of Sunderland's student of the year.
Originally from South Shields, the captain and fly-half led England to a Grand Slam Six Nations title win.
Miss McLean, 25, received her award from the university's chancellor, former athlete Steve Cram.
She said: "I have been juggling playing for England, teaching full time and studying."
The Darlington Mowden Park Sharks fly-half played an instrumental part in getting the England team to the World Cup Final where they narrowly missed out on the title by losing to New Zealand.
In January she was rewarded for her talent and hard work when she was named captain of the national team.
Aside from representing her country all over the world, she has been studying for a postgraduate certificate in the university's Graduate Teaching Programme (GTP) while beginning a second career as a primary school teacher.
Miss McLean said: "It was massively difficult balancing England duties against my work as a teacher, especially during the competition phase.
"But both England and Bexhill School have been amazingly supportive and helpful.
"It has taken a lot of planning and just trying to be generally organised - and I did spent a lot of time marking homework on the floors of airports."
Lord Coe was also presented with an honorary doctorate earlier this week by former middle-distance running rival Cram at the Stadium of Light.