Durham Cathedral woodland restoration planned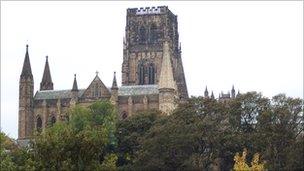 Restoration work is to be carried out on woodland and riverbank areas around Durham Cathedral.
The £287,500 project is to be paid for with a grant from the Heritage Lottery Fund.
The work will include conserving the diverse range of trees within the 18th Century woodland, stabilising the banks and resurfacing the public footpaths.
A nature reserve will also be established and an audit carried out of the area's varied wildlife.
Ivor Crowther, head of the Heritage Lottery Fund, said: "Durham Cathedral is one of the most spectacular buildings in the North East.
"This project will see the landscapes that surround the cathedral revitalised, wildlife habitats protected and the site opened up for local people."
The Very Reverend Michael Sadgrove, Dean of Durham, added: "Durham Cathedral is indivisible from its landscape environment, including the surrounding riverbanks.
"The wooded peninsula and deep river gorge give the cathedral its unique and spectacular setting.
"We are delighted that the Heritage Lottery Fund is supporting our plans to rejuvenate and care for this much-loved landscape, which is enjoyed by residents and visitors to the cathedral as a place of peace, beauty and recreation in a busy city centre."
A key part of the project will be the introduction of an interactive education programme that will include workshops and training in habitat conservation and wildlife and botany surveying.
Students from local universities and colleges will also be able to use the sites as environmental case studies.
Related Internet Links
The BBC is not responsible for the content of external sites.