Twelve million cigarettes seized in Gateshead raid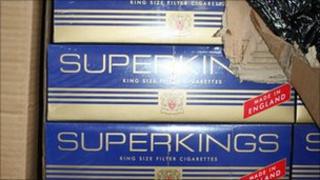 Twelve million counterfeit cigarettes have been discovered during a search of a warehouse in Gateshead.
HM Revenue and Customs officers said it took three lorries to remove the haul and a full day to count the cigarettes.
The haul, worth £2.2m, was found during checks on industrial sites in the area on Wednesday.
HMRC spokesman Michael Connolly said the find was "staggering" and the largest ever seizure of its kind in the North East.
"This was a staggering amount of cigarettes to uncover in one place and shows the scale of this type of crime," he said.
"Each year the British economy loses over two billion pounds in duty from the sale of illicit tobacco, money that is ploughed straight back into funding other criminal activity in our neighbourhoods.
"We are determined to target the criminal supply chains that flood local communities with these smuggled products."