Cumbria couple rescued from Holy Island causeway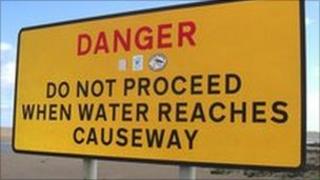 A couple had to be airlifted from a tidal causeway in Northumberland.
The Seahouses RNLI lifeboat was also involved in the latest rescue off Holy Island on Saturday afternoon.
The pair from Cumbria, one with a heart condition, were attempting to drive to the mainland an hour and a half after the safe crossing time had passed.
They were winched to safety by an RAF rescue helicopter, and were unhurt, but their car had to be written off due to salt water damage.
The causeway is flooded by the tide twice every 24 hours, and there are warning signs and details of safe crossing times on either side.