'Great North Swim' River Tyne challenge planned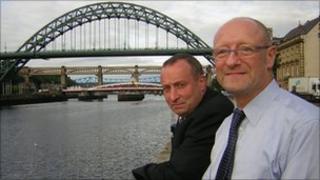 As thousands of people embark upon this year's Great North Run, a group of swimmers will be midway through their own version of Tyneside's famous race.
The 13 are planning to swim the 10 miles from Newcastle to South Shields, the run's start and finish points, in the River Tyne.
Organiser Tony Greener said: "I've done the Great North Run a number of times and every time I've crossed the Tyne Bridge I've looked over the river and thought how interesting it would be to actually swim the race.
"I never thought it would be a possibility due to imagining that the Tyne would be dirty and dangerous but, this year, I thought why not give it a try?"
'Must be mad'
He said he was surprised when his request was granted by Port of Tyne, which has responsibility for the river.
Harbour master Michael Nicholson said: "They must be mad. We're keen to see all uses of the river, legitimate uses, and if they're daft enough to do it then we're probably sane enough to let them."
The Tyne, once home to shopping trolleys, plastic bottles and the occasional car, is now clean enough to swim in.
Mr Greener said: "It looks dirty but I think actually most of it's just really peat and things from the land. It's not too much pollution now, it's a very clean river I believe."
However, Mr Nicholson still warns any attempt to swim in the river should be organised, permitted and safe.
He said: "This is strictly for professionals. These guys have had medical check ups, they regularly do long water swims.
Beat the runners
"They'll be wearing wet suits. You wouldn't last more than 20 minutes, half an hour without proper precautions."
Port of Tyne will be providing support craft and making sure there are no clashes with other river traffic.
The swimmers will start at the Millennium Bridge and finish about 10 miles downstream at Little Haven Beach, just inside South Shields' south pier.
Mr Greener said he hoped to beat some of the runners to the finish line.
He stressed people cannot join in with the swim on the day but said riverside supporters would be very welcome "if they can keep up".
The swim will be raising money for the Royal National Lifeboat Institution.