Murder police hunt 'dangerous offender' Graeme Jarman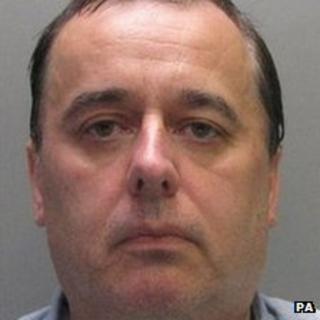 A "dangerous" sex offender with a history of violence is a suspect in the murder of a 77-year-old Northumberland woman, police have confirmed.
Northumbria Police said Graeme Jarman, 47, was reported missing by Durham Constabulary after he disappeared from his home in Consett on 17 August.
Police said they needed to find Mr Jarman "without delay".
Pensioner Judith Richardson was the victim of a "brutal" hammer attack at her home in Hexham on 19 August.
Mr Jarman, who is said to pose a significant risk to the public, was last seen in Stockton town centre on Friday.
A CCTV image captured that morning showed him wearing blue jeans, a light blue polo shirt with dark cuffs and collar and carrying a dark jacket.
Mr Jarman is described as heavily built, of average height with a shaved head.
Police have urged him to contact them.
The details of Mr Jarman, who failed to appear in court on a shoplifting charge on 23 August, have been circulated to forces throughout the UK.
Police discovered Miss Richardson's body after her stolen handbag and some of its contents were found in a litter bin 25 miles away in Clayton Street in Newcastle city centre.
Officers have said there appeared to be some bank cards missing from Miss Richardson's handbag, which have not been found.
A post-mortem examination showed Miss Richardson died from head injuries.
Police found a hammer in a plastic bag in the street near her St Wilfrid's Road home and have confirmed it was the murder weapon.
Det Ch Supt Neil Adamson, head of crime at Northumbria Police, said of Mr Jarman: "We advise people not to approach him but anyone who sees him or believes they know where he is should contact us immediately."
He added: "We don't know where Mr Jarman is. We believe, and have reason to believe, that he may well be in the north-east area.
"But I don't want the public to think that is absolutely the case. He could be anywhere."
Det Ch Supt Jane Spraggon, head of crime at Durham Constabulary, added: "Jarman is one of our dangerous offenders who poses a significant risk to the public.
"We are working closely with Northumbria to find him."
She added: "I would appeal to Mr Jarman for him to make contact with the police to hand himself in."
An 84-year-old man and a 78-year-old woman were arrested on 22 August in connection with the murder and bailed pending further inquiries.