Impaled Sunderland girl speaks about ordeal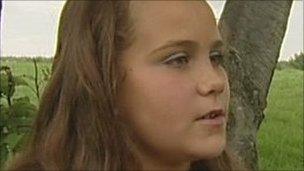 A 10-year-old girl who was impaled on metal railings in Sunderland has spoken about her ordeal.
Caitlyn Brown needed emergency surgery when she fell from a tree and landed on the railings in June. She has now made a full recovery.
After the accident, Sunderland City Council removed fence panels at the scene as well as other railings.
Her mother Jan Stevens said she would now like to see all the similar railings in the area removed.
When Caitlyn fell, one spike pierced her stomach and shoulder.
It took firefighters and paramedics two hours to cut her free and she was taken to hospital with part of one railing still in her body.
She said: "I was just climbing over for a short-cut to get home and then there was a baby bird so I went over to see it.
"Then climbing back over I just slipped and fell on the spike."
She was with her friend Renea Young who saw her slip and ran to raise the alarm.
Caitlyn said: "I just couldn't move. I just knew that I was stuck. I was trying to push myself off but I couldn't."
Caitlyn's mother Jan Stevens said she hoped her daughter had learned her lesson.
She said: "The surgeon said it was 10cm from piercing her heart so I just thank God to be honest."
Following Caitlyn's accident the council removed part of the railing where she fell along with other railings in the area.
But Ms Stevens said she would like them to go even further and take them all down.
She said: "I think they need to come down sooner rather than later because you wouldn't want this to happen to somebody else. And I don't think anybody could be so lucky next time."
Sunderland City Council deputy leader Councillor Harry Trueman said: "We're very pleased to hear that Caitlyn is making a recovery.
"The city council has removed the fence panels where the accident happened and we are consulting residents on new access and security."
Related Internet Links
The BBC is not responsible for the content of external sites.