Raoul Moat death was suicide, inquest jury rules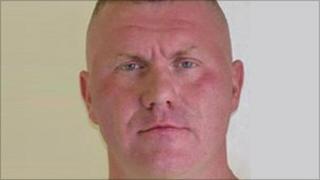 Inquest jurors have returned a verdict of suicide in the death of gunman Raoul Moat, who shot himself in the head after a six-hour stand-off with police.
The 37-year-old former doorman died in Rothbury, Northumberland, in July 2010.
The hearing was told Moat was hit by an experimental shotgun Taser round fired by marksmen who believed he was preparing to kill himself.
Meanwhile an Independent Police Complaints Commission report found no evidence of misconduct by officers.
The IPCC looked at the period from the sighting of Moat until his death, including strategy and tactics and the deployment of Tasers.
It concluded there may be "some learning" for Northumbria Police from the investigation but there was no evidence of misconduct by any police officers.
On the run
One area the jury had to consider was whether the use of Tasers was appropriate. It returned its verdict after deliberating for more than five hours.
The inquest heard the aim was to incapacitate Moat, allowing officers to make an arrest.
Officers were offered and accepted X12 Taser shotguns which were licensed only for testing in the UK.
The shotguns were used because they fired XREP cartridges over a longer range than conventional handheld Tasers.
It was the first time firearms officers had seen the weapons.
Two were fired, with one hitting his forearm and the other missing, and shortly afterwards Moat shot himself.
A consultant neuropathologist told the inquest he did not believe Moat shot himself because a Taser caused his hand to contract.
Dr Ian Schofield said there was no definitive evidence of an electrical discharge from the non-approved Taser which hit Moat's left arm.
In a written narrative explanation of the events, the jury said "questions have been raised about the suitability of XREP Tasers and the information officers were given on deployment".
"All officers involved were shotgun and X26 Taser trained and had no qualms in using XREP shotgun Taser."
Concerns were also raised by the Moat family that his estranged brother Angus and best friend Anthony Wright were not called as third party intermediaries during negotiations.
The jury found "at no point did Mr Moat ask to talk to any family member or friend".
After the verdict, solicitor Adam Straw read a statement on behalf of Angus Moat.
It said: "I remain highly critical of the police decision not to allow myself, or any other friend or relative, to speak to Raoul alongside police negotiators, during the six-hour stand-off.
"I believe the police decision to deploy and use the X12 XREP shotgun taser, despite it not being authorised by the Home Office, was a mistake.
"Sufficient knowledge of its likely chance of failure was not obtained. I also feel the training given to the officers to use the XREP was woefully inadequate, and given far too late."
'Extremely volatile'
Northumbria Police Chief Constable Sue Sim welcomed the verdict.
She said: "Raoul Moat chose his path, he decided to murder, attempt to murder and to threaten the lives of the public and police officers.
"He had many opportunities to hand himself in and face justice, yet he chose not to do so. His victims had no such choice.
"This was an extremely complex and dynamic operation. In the first few days we were also dealing with a potential hostage situation.
"We always wanted to bring him to justice."
She responded to the criticism about why family and friends were not brought in during negotiations.
"The situation was extremely volatile and dangerous and the assessment of trained expert negotiators was that it would have been unsafe to introduce anyone into the negotiation with Moat who had not seen him for some time or who may have inflamed the situation," she said.
She said Tasers were used because there were no other options available to police to try to stop Moat from taking his own life.
Moat had been on the run for a week after shooting his ex-partner Samantha Stobbart, murdering her new boyfriend Chris Brown and later blinding PC David Rathband.