Tynemouth parking changes harming trade, say businesses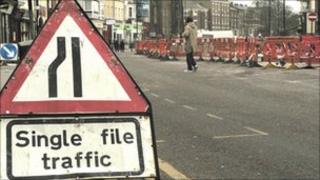 Traders in a Tyneside coastal village have said changes to parking are costing them up to half their custom.
They claim Tynemouth's new residential permit parking and a reduction in the number of village centre spaces mean shoppers find it hard to park.
Some shops report customers taking up to half an hour to find a space before sometimes giving up.
But the council said the parking changes were popular with residents.
Mark Holmes, from Headlines hairdressers, said: "When the council moved into Tynemouth about four months ago with this grand scheme they removed 20 parking spaces.
"Every customer that comes through our door, they tell us that this is a problem. They say they just can't get parked here.
"A lot of them are just not coming back and it's down to the council."
Some residents like the permit scheme and have been complaining to businesses for petitioning the council to make changes.
In a statement North Tyneside Council said: "We've already listened to the concerns of businesses. As a result we've already agreed to make many changes.
"However, we've recently consulted with residents on the measures introduced so far. The feedback suggests 100% would oppose any proposals to remove the recently introduced resident-only parking areas."