Another car stranded on Holy Island causeway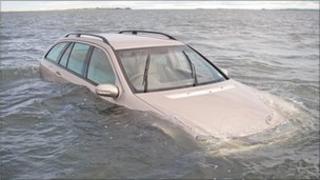 A man and woman were rescued from a refuge box after their car was stranded on Holy Island causeway.
Humber Coastguard requested the launch of Seahouses inshore lifeboat shortly before 14:00 BST. The safe crossing time was until 12:45 BST.
The RNLI said they were cold and wet and the woman had a heart condition. They were brought to shore by lifeboat.
A meeting was held in August to try to solve the issue of strandings on the Northumberland causeway.
Seahouses Lifeboat Operations Manager Ian Clayton said: "The problem continues, despite all of the media coverage.
"I am saddened by the continuation of these incidents, and my greatest fear is that one day, we may have a fatality."