Antony Gormley's 'Angel of North' sold at auction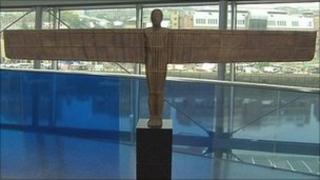 A miniature version of the Angel of the North soared above expectations when it sold at auction for £3.4m.
The 1.9m (78.5in) model was made by sculptor Antony Gormley in 1996, prior to the installation of the full-scale version in Gateshead.
The model, one of five from a cast of the sculptor's body, had been valued at between £1.5m and £2m.
It was bought by an anonymous bidder when it went under the hammer at Christie's in London on Friday.
Antony Gormley's design for the Angel of the North was chosen by Gateshead Council from a shortlist of international artists in 1994.
The 20m (66ft) structure took a further four years to construct and install on a patch of land overlooking the A1, where it is viewed by an estimated 33 million motorists every year.