Sammy Ameobi Twitter racist remark: Two boys arrested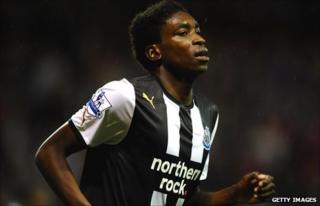 Two boys have been arrested after Newcastle United footballer Sammy Ameobi was racially abused on Twitter.
The 19-year-old forward, the brother of fellow Newcastle player Shola, was targeted after he tweeted a photo of a pair of black boots on Sunday.
Northumbria Police said the teenage footballer received a tweet calling him a "nigger".
Two 17-year-old boys were arrested on Wednesday on suspicion of malicious communication offences.
Sammy Ameobi and Newcastle United both reported the matter to police.
Officers said the account the message was sent from had been deleted.
A Northumbria Police spokesman said: "Two young men, both aged 17, have been arrested on suspicion of malicious communication.
"The arrests come after reports of a racist tweet being sent to one of the region's professional sportsmen."
The 19-year-old footballer had posted a message alongside the photo of the boots, saying: "There will always be a place in my heart for the all blacks."
After receiving the abusive message, he "retweeted" it, adding: "Sad to see some people are still racist nowadays."