Rededicated war memorial for Morpeth school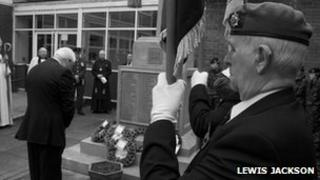 A war memorial at a Northumberland School which was desecrated by thieves earlier this year has been rededicated following restoration.
Two metal plaques were stolen from the site at King Edward's school in Morpeth and were never recovered.
The plaques bore the names of people who lost their lives in World War II and the Korean War.
The Bishop of Newcastle was at the service and there was a flypast by a Sea King helicopter.
About 120 names are remembered on the plaques which can be found in the school's main quadrant.
Victoria Najafi, a teacher at the school, said: "In July, the students were doing a project on the memorial, came outside and discovered the plaques had vanished.
"We assumed they had been taken off to be cleaned by our archives but we discovered they had been stolen.
"It's our school heritage and it's our town's heritage and we're delighted it has been restored."