Alcan Northumberland site closure hits 500 jobs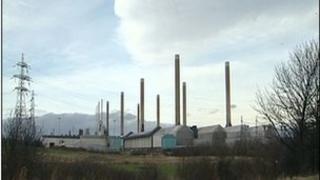 More than 500 jobs are to be lost with the closure of a Northumberland aluminium smelting plant.
Rio Tinto Alcan, which owns the plant at Lynemouth, said it plans to close the site, where 515 people work.
It is also in discussions about selling the power station at the site, where 111 people are employed. The company will now hold a 90-day consultation.
The decision has been described as a major blow for the area.
Rio Tinto Alcan chief executive Jacynth Cote said the decision followed a thorough strategic review.
She said: "... It is clear the smelter is no longer a sustainable business because its energy costs are increasing significantly, due largely to emerging legislation.
"We are hopeful that the power station can remain in operation under new ownership."
'Body blow'
The Lynemouth smelter opened in 1972. The plant is estimated to contribute £60m to Northumberland's economy.
Northumberland County Council leader Jeff Reid said: "This is very sad news for those who are employed at the plant and their families, as well as for the local community as a whole."
He said the focus would now be on supporting those affected.
North East Liberal Democrat MEP Fiona Hall said: "This is a real body blow for the staff, their families and Northumberland as a whole.
"The focus now has to be on ensuring there are jobs to go to for those that will find themselves out of work.
"I will be urging the government to apply for EU recovery funds which can help limit the damage caused by the closure."
Business Secretary Vince Cable said the planned closure was "very disappointing" for the workforce and community.
He said: "My department is working with the company and local partners, including Northumberland County Council and Jobcentre Plus, to ensure everyone affected has access to the very best support and training opportunities available."