Lottery grant for red squirrel scheme in Northumberland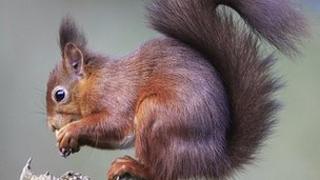 A project to help protect threatened red squirrels in the north-east of England has been given a cash boost.
The Heritage Lottery Fund (HLF) is giving £247,700 to the Northumberland Wildlife Trust to monitor numbers and set up conservation areas.
The trust's four-year project aims to encourage communities across the county to come together and help protect the endangered animal.
Native red squirrels are under threat from greys which carry a lethal virus.
The project will involve local schools, which will have the chance to go on field trips and learn how to record and monitor red squirrel activity.
The first phase of the project will include activity in Rothbury, Cramlington, Wark, Cornhill-upon-Tweed and Slaley.
Many of the remaining 15,000 red squirrels on mainland England live in the North East, where the species faces particular threats in resource competition and disease transfer with grey squirrels.
Ivor Crowther, head of the Heritage Lottery Fund North East, said: "We have some wonderful native wildlife in the North East and collectively we have a responsibility to ensure their survival.
"This project will give people of all ages the opportunity to learn more about the famous red squirrel, help monitor and record squirrel activity and the role it plays in the North East's ecosystem."