Hexham River Hydro gets £100k cash boost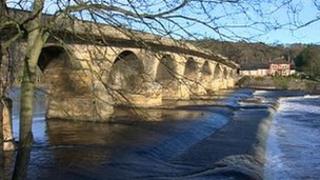 A £100,000 green energy prize has been awarded to a scheme to generate electricity from the River Tyne in Northumberland.
As part of Transition Tynedale's Hexham River Hydro project, a turbine would be built beside the bridge into the town.
This would harness the power of the river to generate enough electricity for about 150 homes.
It beat off national competition to win the cash, from Energy Share, the green energy organisation.