Durham playground equipment removed after safety failure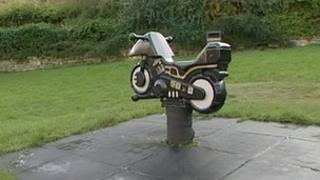 A playground in County Durham has been reduced to just one toy after its other rides and equipment were removed for failing a health and safety inspection.
For years Allergate play area in Durham City had swings, a see-saw and slides, but they have now been taken away, leaving just a spring-mounted toy bike.
The council said there were no immediate plans to replace the equipment which was "corroded".
But local mother Ruth Pierce said there was nothing wrong with the toys.
Ms Pierce, who has a two-year-old son Joe, said: "We only walk through the park now - there is nothing to come here for.
"I'm all for things being safe but there is a limit - there was nothing wrong with the equipment, except perhaps the roundabout which was a bit dodgy, but the rest of it was all fine."
Steve Howell, head of sport and leisure at Durham County Council, said the authority had spent more than £1m on improving its playgrounds in the past year.
'Potential hazard'
He said: "All the council's play areas are regularly inspected by trained staff to ensure they do not pose a risk to the children coming to enjoy them.
"In this case the inspection showed significant corrosion on all equipment which could not be safely repaired.
"While play areas are covered by range of background legislation including health and safety regulations, the most important thing is for staff to use their training and common sense.
"If a piece of equipment represents a potential hazard the safest thing to do is take immediate and appropriate action."
He said that this was the first time the council had removed play equipment without "prior notice".