New River Wear bridge in Sunderland given the go ahead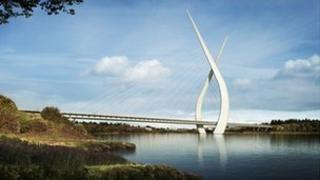 Plans to build England's tallest bridge across the River Wear in Sunderland have been given the go ahead.
The government announced it would provide £82.6m to fund the 590ft (180m) high and 1,102ft (336m) long bridge.
The new crossing will link Wessington Way on the north side of the river to Pallion New Road on the south.
Sunderland City Council leader Paul Watson said it was "great news for Sunderland and the wider region".
The bid of £82.5m was submitted to the Department for Transport by the council in September after the government said up to £630m was being made available for local authority projects to help economic growth and provide jobs.
Mr Watson said: "I know the city and region is grateful for this opportunity to start work on this landmark project.
"We can now look to a major development that adds to Sunderland's vibrancy and furthers the regeneration of our city."
Giving something back
The bridge was designed by North East architect Stephen Spence, along with structural engineers Techniker.
Mr Spence said: "On a personal level it has always been an ambition to put something positive back into the area where I grew up."
The landmark bridge will consist of two curving steel towers and will be the tallest bridge in the country when it is completed in 2015.
The council's bid was supported by regional businesses and partnerships.
Paul Woolston, chair of the North Eastern Local Enterprise Partnership, said: "Greater connectivity through Sunderland from the A19 is a boost not only to Sunderland but for the rest of the North East."
Construction work on the bridge will start in 2012.