Sunderland Donna Claire House respite home to close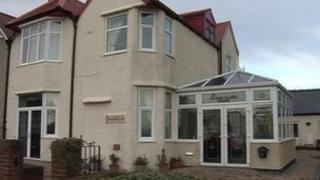 A respite home for disabled people in Sunderland is to close after 20 years.
Donna Claire House provides care for disabled people while their family go on holiday, but it is closing due to lack of funds.
The home at Seaburn takes on private customers as well as local authority funded ones.
Owner Geraldine Plunkett said the building would be sold. "Prices are going up and money is drying up. We're devastated and want to carry on."
Susan Ferris, deputy manager at the home said: "A big part of what we do is enabling people to get out and have a bit more of a holiday than having respite.
"So they can go walking, shopping, maybe just having a taste of hobbies they used to have, or go out for a meal. Things that are a bit more difficult at home.
"I love my job, today is a heart breaking day. I've been here 16 years and I just can't believe it's coming to an end."
Mrs Plunkett said: "I have mixed emotions. We've got quiet pride in what we've achieved here.
"We have thought about putting our prices up, but the local authorities have set a price, and private people cant afford to pay the prices it would need to be.
"The building will go on the market, and the money will be put to something similar so we can continue to help people."