Public inquiry into Stanhope Ford closure begins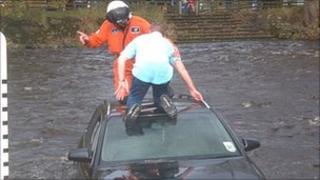 A public inquiry into the future of a County Durham river crossing is due to take place later.
The road crossing through the River Wear was closed by police under emergency powers in 2008 after stranded motorists had to be rescued.
Now a public inquiry at St Thomas Church Hall in Stanhope will decide on the possible permanent closure of Stanhope Ford in Weardale.
Some locals view it as a convenient shortcut, and object to the closure.
Proposals to keep the crossing closed have been supported by police, fire and ambulance services as well as the Environment Agency.
Cabinet member for the environment Cllr Bob Young said: "The safety record of Stanhope Ford is clearly a cause for some considerable concern both by ourselves and the emergency services.
"We believe that motorists who have persisted in attempting to cross the ford during appalling conditions have repeatedly put their lives and the lives of those people trying to save them, at risk.
"On occasion it has been necessary to call in a rescue helicopter to bring people to safety.
"Over the past ten years there have been 23 reported incidents. This is why we have proposed a permanent closure to vehicles.
"However, this is a complex case and there are a number of objections, so we are asking members endorse a non-statutory public inquiry which would be hosted by an experienced and independent inspector."