Steven Black jailed for causing Michael Ritson's death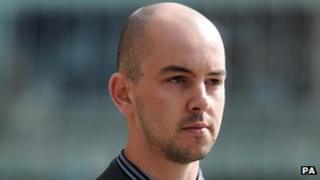 A driver who knocked down and killed a man who thought he was trying to leave the scene of an accident has been jailed for seven years.
Father-of-three Michael Ritson, 33, from Jarrow, died in hospital following the crash in Gateshead in March.
A car driven by Steven Black had been in a crash with a motorcyclist and he was driving away when he hit Mr Ritson.
Black, 27, of The Riding, Kenton, pleaded guilty to causing death by dangerous driving.
At the trial the court heard that Mr Ritson, a sound engineer, had got out of his car to help in the aftermath of the crash on the Felling Bypass on 27 March.
Black had rung emergency services and was still talking to them on his mobile phone when he decided to leave the scene.
Mr Ritson was in front of the car and was thrown onto the windscreen and then onto the roof.
He suffered head injuries and died in hospital three days later.
His wife and children were in his car nearby.
'In shock'
Black had originally been charged with manslaughter, which carries a maximum sentence of life imprisonment, and had denied the charge.
The court heard Black had not intended to leave the scene of the accident, but acted "in shock" when Mr Ritson approached his car.
His plea of causing death by dangerous driving was accepted.
In court Judge John Milford told Black: "This was a case where there was flagrant disregard for the rules of the road and flagrant disregard for the danger being caused to others.
"You drove your car deliberately at a man who you knew was intent on preventing you from moving."
Black was also banned from driving for five years.