Berwick to be put forward for World Heritage status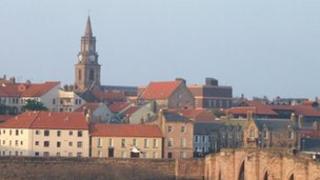 Durham's Norman Cathedral dating back some 1,000 years has it, as does Emperor Hadrian's sprawling Roman wall.
And now the walled town of Berwick-upon-Tweed in Northumberland is hoping to join them on their prestigious pedestal - by gaining World Heritage status.
The idea for Berwick, which has a population of 13,000, to apply for the accolade was first mooted in 2005.
But members of Cittaslow, the town's organisation set up to improve quality of life for residents, said they were realistic about the time it would take.
They estimated they would not be ready to submit their bid to Unesco - the UN cultural body - for several years.
"Tourism is our principal employer - Berwick's future is in its past," said retired teacher Bernard Shaw, a resident of the town, which marks the border between Scotland and England.
He added: "Cittaslow means 'slow living', we are about promoting Berwick, quality living in a quality town, with international appeal.
"The bid for status is at least a 15-year project."
Mr Shaw, who retired to the town in 1988 after being a frequent visitor, said Berwick's history was fascinating with endless places to visit.
Its attractions include the well-preserved 1570s Bell Tower, its ramparts ordered to be built by Elizabeth I to defend the town, and the Ravensdowne ice houses, built in the 1780s to keep locally-caught salmon fresh before being transported to London.
But probably its most famous landmark is its Royal Border Bridge, which was opened by Queen Victoria in 1850.
The town has changed hands between England and Scotland - usually following battles between the two countries - about 13 times, the last in 1482.
Mr Shaw also said there was still a long-running debate over whether England's most northerly town should be in Scotland - its football team, Berwick Rangers, is the only English team to play in the Scottish league.
A World Heritage site is described as a historic monument, group of buildings or site which is of outstanding universal value to the international community.
The Pyramids of Egypt, the Great Barrier Reef in Australia and Liverpool's historic docklands all have World Heritage status.
The resulting prestige of the title means worldwide publicity, as well as grants to help preserve attractions, and restrictions on developments.
A spokeswoman for the Department of Culture Media and Sport, which recommends which bids go before Unesco, said a "huge amount of work" went into the process.
There are currently 28 sites in the UK which have the status.
The spokeswoman said: "Inscription as a World Heritage Site is an acknowledgement of the truly global significance of such places.
"It is an honour and a privilege and can bring social and economic benefits.
"Because all sites have to be of truly global importance, the World Heritage List, which we put forward, is inevitably very selective and many places of national or even of international, significance will not make it on to the list.
"Inscription also carries responsibilities for the protection, preservation and transmission to future generations of the site's outstanding universal value."
Mr Shaw said one option to improve the town's chances of gaining the status was to widen its appeal by widening its borders to include, for example Holy Island or Flodden - the site of famous 1513 battle between the English and the Scots.
He said: "There are many walled towns in the UK.
"We need to enlarge our area of geographical interest and focus our attention on taking Berwick out of the walls."