Morpeth flood defences given go-ahead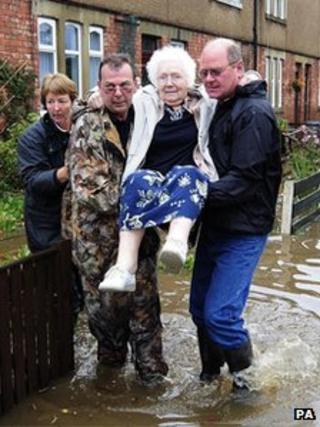 Funding for a flood defence scheme for Morpeth has been approved by the government and the Environment Agency.
Nearly 1,000 properties were flooded when the River Wansbeck burst its banks in the Northumberland town in 2008.
Construction work on the £21m defences will start early in 2012 is expected to take between a year and 18 months.
The government will contribute £10.6m as part of its Partnership Funding model, with up to £12m coming from Northumberland County Council.
Designs are being drawn up for the scheme which includes a flood storage area on the Mitford Estate.
New defences will also be built at Mitford Road, High Stanners and around Oldgate Bridge, and a few existing ones raised where necessary.
It is estimated that there is a 0.73% chance in any one year of a flood on the River Wansbeck similar in size to the September 2008 event.
'Devastation and distress'
Councillor Jeff Reid, leader of the county council, said: "This is a very important scheme for the community of Morpeth and the council is pleased that, despite tough economic times, it has been able to commit funding to ensure that it goes ahead.
"We are working in partnership with the Environment Agency to develop a detailed design for the scheme."
It was one of 60 flood and coastal risk schemes given approval on Thursday.
Richard Benyon, Minister for the Natural Environment and Fisheries, said: "Small towns like Cockermouth and Morpeth became household names after the devastation and distress caused by flooding in recent years.
"Today, residents here and in many towns across the country are reaping the rewards of the partnership funding model brought in to enable more flood defence schemes to go ahead."