Couple injured in Northumberland post office robbery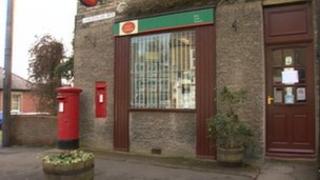 A man and a woman in their late 60s have been assaulted during a robbery in a post office in Northumberland.
It happened at 08:00 GMT at Wylam Post Office in Laburnum Terrace where police say two men armed with crow bars broke into the premises.
They were disturbed by the occupants and assaulted them. Both were taken to hospital for treatment.
The men stole cash and a Ford Mondeo belonging to the owners which was found abandoned nearby in Woodcroft Road.
The two offenders were wearing dark clothes and balaclavas. One of the men is described as being around 5ft 6in tall, bald and with a round face.
The injured man suffered a suspected crack to his rib and bruising to his face, while the woman has bruising to her back, and has been left shocked by the incident.