New Tyne and Wear Metrocar takes to the tracks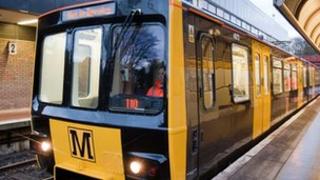 A new-look Metro train has been unveiled to the public in Tyne and Wear.
The carriages have been redesigned with new brighter looking seating, lighting and flooring.
The train began its first journey at 5:40 GMT and will operate between Sunderland and Newcastle International Airport.
It is the first of 90 to be revamped as part of the £385m Metro modernisation programme.
The project will see stations and trains upgraded over the next 11 years.
Bernard Garner, director general of Nexus, which owns and operates Metro, said: "I'm pleased to say we now have the first two refurbished carriages in service.
"This is a significant investment in our rolling stock and passengers can look forward to brighter, cleaner and more modern looking trains, with a new colour scheme."
The new colour scheme still incorporates the iconic bright yellow brand colour of the Metro, but the new interior will be metallic grey and black, replacing the old red, green or blue.