Former Bishop Arthur Lloyd's 1907 grave is restored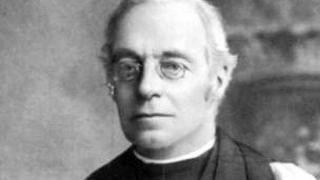 The 105-year-old grave of a former Newcastle bishop has been restored.
The resting place of the Rt Rev Arthur Lloyd had become dilapidated in the century since his death in office at the age of 63 in 1907.
The grave was recently discovered in St James' Church, Benwell, and restored as part of the work under the St James' Heritage project.
It was rededicated by the current Bishop, the Rt Rev Martin Whorton, at a ceremony on Sunday.
The grave's granite headstone had been damaged and was reattached as part of the work.
A spokesman for the Diocese of Newcastle said Bishop Lloyd's unexpected death in London in May 1907 and his funeral in June "was reported at the time to have attracted large crowds of mourners, reflecting his reputation as a good, modest and sincere man whose love for Newcastle was returned by its people".