Durham Cathedral's visitors average 32p instead of £5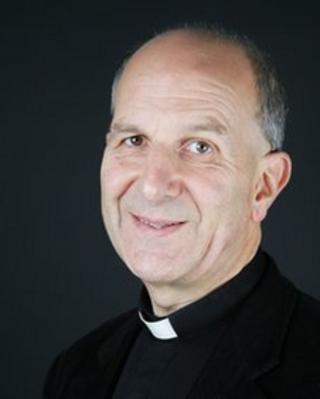 Durham Cathedral might ask its visitors for a donation of £5 but they give, on average, just 32p.
The Very Reverend Michael Sadgrove, Dean of Durham, is facing the economic reality that 32p "doesn't compare very favourably" with the amount they need.
He said: "I know how many hundreds of thousands of people find this a moving place.
"I believe we have a wonderful opportunity to ask people to share the task of caring for this place so it does disappoint me that some people don't give as much as they can and should."
Running the cathedral costs more than £1m a year and just 20% of that comes from visitor donations.
The 600,000 people who visit every year pass signs and donation boxes asking them to give £5 for their visit - in cash, or via their mobile phone.
But the cathedral's income makes it clear most people give much less than suggested and many give nothing at all.
Admission fees
Many cathedrals around the country have introduced admission fees in excess of Durham's suggested £5 donation.
It costs £9 for an adult to see York Minster, £14.50 for St Paul's Cathedral in London and Coventry Cathedral, a modern building, charges its visitors £8.
The decision to charge usually results in a fall in visitor numbers but a rise in income.
Durham Cathedral's governing body, the cathedral chapter, has talked about charging many times but has always ruled it out.
Mr Sadgrove said: "Each time we've discussed it we've concluded we do not want to do this because we believe that sacred spaces are public spaces and the public should have access to them when they come to pray or worship.
"We want to make this cathedral financially sustainable by any other route."
Durham Cathedral's "other route" is a £7m renovation project, due to be completed next year, which will create new exhibition space for the cathedral's many medieval treasures.
'Leave as pilgrims'
There will be an admission charge for this exhibition although entrance to the main cathedral will remain free.
Forty miles away, at Hexham Abbey in Northumberland, visitors are even less generous, donating just 24p each on average.
Although it began life as a cathedral in the 7th Century, it is now a parish church and, despite is size and historical significance, it receives no central church funds.
But the Abbey's rector, Reverend Canon Graham Usher, said they had never, and would never, consider an admission fee.
He said: "I really struggle with that when I go to some of our major cathedrals and see that happening.
"I see people come to Hexham Abbey as tourists to a visitor attraction and leave as pilgrims because, somehow, this place has touched them."
Charging may have been ruled out at Durham Cathedral and Hexham Abbey but almost half of England's cathedrals who responded to a BBC local radio survey say they are worried or have concerns about meeting their running costs in two years' time.