Whitburn couple to buy lawnmower with £1.2m Lotto win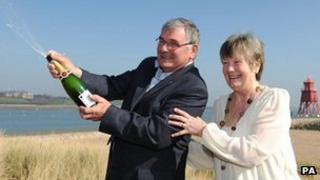 A couple who scooped £1.2m on the National Lottery said a new lawnmower was top of their wish list.
Retired plumber Railston Watkins, 68, and his wife Violet, 65, of Whitburn, watched Wednesday's live draw and were stunned to see their numbers come up.
The South Tyneside couple said they would share the jackpot with their four children and 10 grandchildren.
Keen gardener Mr Watkins said he discovered his lawnmower was broken just before the win.
He said: "The lady from Camelot asked: 'What's the first thing you want to buy?' and I said a lawnmower.
"You more or less try to convince yourself it is right. You pinch yourself and think 'I'm dreaming'.
'Feel numb'
"It doesn't sink in straight away. It's not a feeling I can explain, it's like a numbness."
The couple, who have been married for 45 years, said they would buy their semi-detached council house by the sea, and had no intention of moving from the area.
They will also share the jackpot with their children David, 43, Alison, 41, Gary, 37, and Kay, 31.
Mr Watkins, who retired in 2000 after undergoing a bypass operation, said: "It's a feeling every parent should get to feel - the first thing that comes into your mind is that you can do everything for your family."
Mrs Watkins, a line dancing teacher, said: "On the night that we found out, all I could think about was how we could help out the children."