Learning the ancient logging skill in Allendale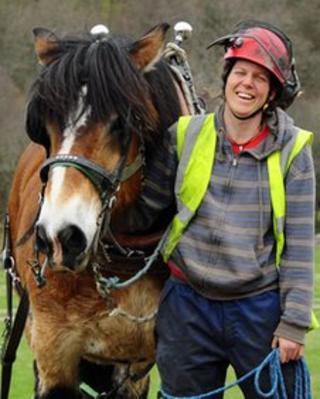 Steffi Schaffler came to England from Germany - via Scotland - and is still rarely home between jobs, which can last for several weeks.
She is one of the first three apprentices with the British Horse Loggers Trust and has been practising her new craft at Chapel House Wood in Allendale, Northumberland.
She and her 12-year-old Ardennes horse - bred for heavy pulling and farm labour - have been carefully removing five tonnes of timber from the overgrown, centuries-old woods.
She used to ride as a child but, apart from feeling "there should be something better than a tractor" on a farm, she had not worked much with horses.
Despite describing herself as "not a very good rider at all", she said she was in her element in the job.
"You behave very differently, the animal behaves very differently," she said.
"They are a lot better trained than riding horses because you have to rely on them.
"If you're driving a horse it needs to really be spot-on. My horse listens to voice command... one step to the right and one step to the left on voice.
"You have to concentrate because, if you lose your concentration, the horse will just do what it wants."
Ms Schaffler is six months into a three-year apprenticeship and is grateful her horse, Lisa, is already trained since, she says, that is "an art in itself".
She and Lisa have been clearing Chapel House Wood as part of a scheme run by the Forestry Commission and the North Pennine Area of Outstanding Natural Beauty (AONB) Partnership.
'Only viable option'
She works with Chris Wadsworth, a horse logger with 21 years' experience, who said the ancient skill was incredibly important.
"Not only is it gentler on ground flora, but sometimes it can be the most economic or indeed the only viable option of working a wood," he said.
Ms Schaffler said she agreed that horse logging did a job "you couldn't do much faster with a machine".
"We do things that can't be done by machine, or things people wouldn't be bothered to do," she added.
Mr Wadsworth said he was pleased with his "very bright, very practical" apprentice.
He said: "I'm very much aware that I am in receipt of the knowledge of the old horsemen that taught me and I feel obliged to pass that on down the line to the next generation.
"If we needed working horses in the future we could always breed the horses.
"If we once lose the human link, the culture, the knowledge, it's gone forever, so we have to keep passing it on."