Alcan Lynemouth smelter staff donate £30,000 to charity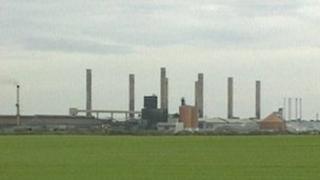 Workers whose jobs are to be axed with the closure of Northumberland's Alcan plant, are donating £30,000 to charity.
The cash from the workers' social fund will be donated to three charities in the north-east of England.
Social club member Paul Sparrow, said it showed how "kind hearted" workers at the plant are.
It comes after Rio Tinto Alcan, which owns the plant at Lynemouth, announced plans to close the site in November, leaving 515 people jobless.
This money, and proceeds from the sale of the clubhouse, will be donated to the Great North Air Ambulance Service, the Children's Heart Unit Fund at The Freeman hospital and Archie's Dream.
'Over the moon'
The plant's social club was opened in the 1970s and members have always contributed to raise money for events and trips.
Club chairman Roland Sanderson, who has worked at the plant for 35 years, said that although it is "valuable cash" for the workers, they felt it should be donated to charity rather than sharing it out.
The Lynemouth smelter, which opened in 1972, is estimated to contribute £60m to Northumberland's economy.
A total of 515 staff will lose their jobs when it closes, with 323 being made redundant in May.
Club member Paul Sparrow, said: "I'm quite over the moon, it gives you a feel good factor after what has happened and makes you feel a bit better about yourself, everybody has a good feeling about it.
"It just shows the kind hearted people that work and live in the area."