Sunderland lifeboats named in honour of Marjorie Gallon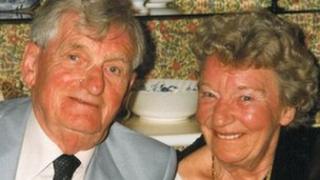 Two RNLI lifeboats have been named in honour of the woman who funded them.
The inshore lifeboat and a vessel from the charity's relief fleet were named MyJo and MyWay in honour of Marjorie Gallon, of Solihull, on Saturday.
Mrs Gallon, who was 86 when she died in 2007, left the RNLI funds which enabled the purchase of the D class lifeboats.
Mrs Gallon's friends attended a ceremony in Sunderland to name the two boats, which have been operational since the autumn.
Sunderland RNLI Lifeboat Operations Manager Martin Andrew said the boats had been provided thanks to the "very generous" legacy of Mrs Gallon.
'Delighted'
MyJo went into service in November and has already completed more than 10 rescue launches.
Named in memory of Mrs Gallon's late husband Joe, it is an inshore boat which operates alongside the larger Atlantic 85 class vessel Wolseley.
MyWay, which was named as such because Mrs Gallon was renowned for doing things "her way", has been in use since October.
The vessel operates at RNLI stations along the coast, providing cover when their usual lifeboats are being repaired or refitted.
Sue Roberts named the new boats together with her husband David. The couple were friends with Mrs Gallon and are members of the RNLI Hall Green and Acocks Green Guild.
Mrs Roberts said: "She would be delighted to know that the two lifeboats are going to be named and I know it is the sort of occasion she would have loved."