Racist tweet targeted at Newcastle United's James Perch probed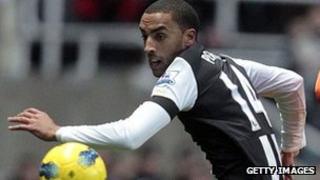 Police are investigating claims a Premier League footballer was racially abused on Twitter.
The tweet, believed to be from a 17-year-old Liverpool fan, was posted after Newcastle United defender James Perch clashed with another player in a match against Liverpool on Sunday.
Durham Police said they were looking into the case.
A police spokesman said "an appointment has been made for an officer to visit them and take further details".
Officers were contacted when Perch was targeted on Sunday after a clash with Liverpool goalkeeper Pepe Reina ended with the Spaniard receiving a red card during his side's 2-0 loss.
Other Twitter users immediately rounded on the abuser, telling him police would be informed, and reminding the writer about what happened to student Liam Stacey, who was jailed for abusing Bolton player Fabrice Muamba.
Stacey, 21, was given a 56-day jail term last week after he admitted inciting racial hatred over remarks about the midfielder, who at the time was critically ill following his collapse during an FA Cup tie against Tottenham Hotspur.
A call about the abuse Perch received was made to Northumbria Police, but because the complainant was from County Durham, officers from that force will take up the issue.
A Durham Police spokesman said: "Northumbria Police contacted us yesterday afternoon after a member of the public complained about allegedly racist comments posted on Twitter."