Dog rescuer hurt by barbed wire in Rowlands Gill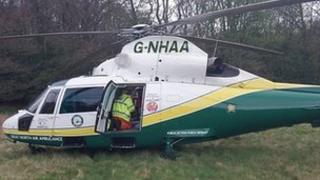 A man was injured when he became entangled by barbed wire while trying to rescue his dog on Tyneside.
Police and the fire service attended the scene at Ponthaugh, Rowlands Gill, near Gateshead, on Sunday.
The 41-year-old dog owner fell 10ft (3m) down a riverside embankment and landed in barbed wire after going after his dog which had become stuck in mud.
He was airlifted to hospital where he is being treated for severe lacerations to his head.
His injuries are described as non-life threatening.
The dog managed to rescue itself and was unharmed.